29 Years and Counting
Triad B2B Agency – 29 Years Old, and Looking Ahead
I often use Triad's anniversary as a reason to look back on the previous year. However, there is such a strong runway for the company going forward, I think that looking ahead is the best direction for this year's anniversary blog.
The past several years have been a time of significant change for Triad, as we have grown our capabilities in the digital space. Today, we offer a broad range of digital capabilities, in addition to our traditional print and public relations services. These digital capabilities include:
Website Development
Search Engine Optimization
Google Ads
GeoFencing and Retargeting Programs
Native Display Advertising
Social Media Programs, including LinkedIn Sponsored Content Advertising
I also want to mention the growing emphasis we are placing on content development. Today, content is one of the foundations of an effective B2B marketing program, and we will continue to develop whitepapers and feature/technical articles for our clients as part of their well-rounded marketing effort.
Finally, it goes without saying that our clients are our future. We have recently added several new clients, and we are excited to be working with them. In addition, our existing clients are not waiting for the recession to "happen to them." Instead, they, too, are aggressively pushing ahead. Recession or no recession, these companies are focused on growth and the acquisition of more market share.
Triad is fortunate to have them as clients.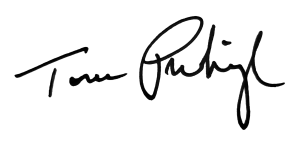 Tom Prikryl
President, Triad B2B Agency