An Experienced B2B Manufacturing Marketing Agency
Since its inception in 1994, Triad B2B Agency has worked with a number of manufacturing clients in a wide range of industries. This experience has allowed Triad to better understand the sales process of manufacturing companies and develop marketing programs that best support that process.
Triad has extensive experience in a broad range of manufacturing markets, including oilfield drilling and production equipment, environmental and control instrumentation, automotive components and assemblies, injection molded parts, institutional furniture, digital sensors, precast concrete, building products, HVAC systems, fastening and joining systems, composite structural products and pipe, and more. The leadership of Triad, individually, has manufacturing marketing experience dating to the 1980s, in addition to actual operational experience in this space.
Current and former manufacturing clients
Over the years, we have worked with many leading manufacturing companies – Alcoa Fastening Systems, Alcoa Oil and Gas, BrandFX, Double E, Fibercast Pipe, Fibergrate Composite Structures, HMI Cardinal, Kewaunee Scientific, LeTourneau Drilling Systems, Liquidmetal Technologies, TN Technologies, Titus, and Viking Plastics, to name a few.
see our case studies
Manufacturing marketing programs
Through the years, Triad has developed a broad range of marketing programs that effectively targeted specific market buying influencers for our manufacturing clients. These programs have included a number of strategies and tactics designed to reach these core audiences in a manner that elicits a response – print and digital advertising, sales literature, complex explanatory animations, sales presentations, product and company press releases, whitepapers, and feature articles, videos, websites, social media campaigns, Search Engine Marketing (SEM) programs, and direct marketing efforts (both print and digital).
See our services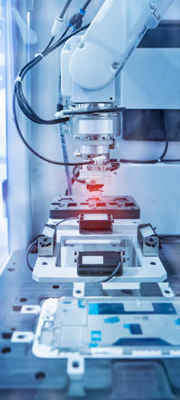 Interested in what we can do for you?
Let's discuss the marketing challenges and goals of your manufacturing operation. Triad is ready to tailor a program that sets your organization apart and effectively supports your overall sales and marketing effort.