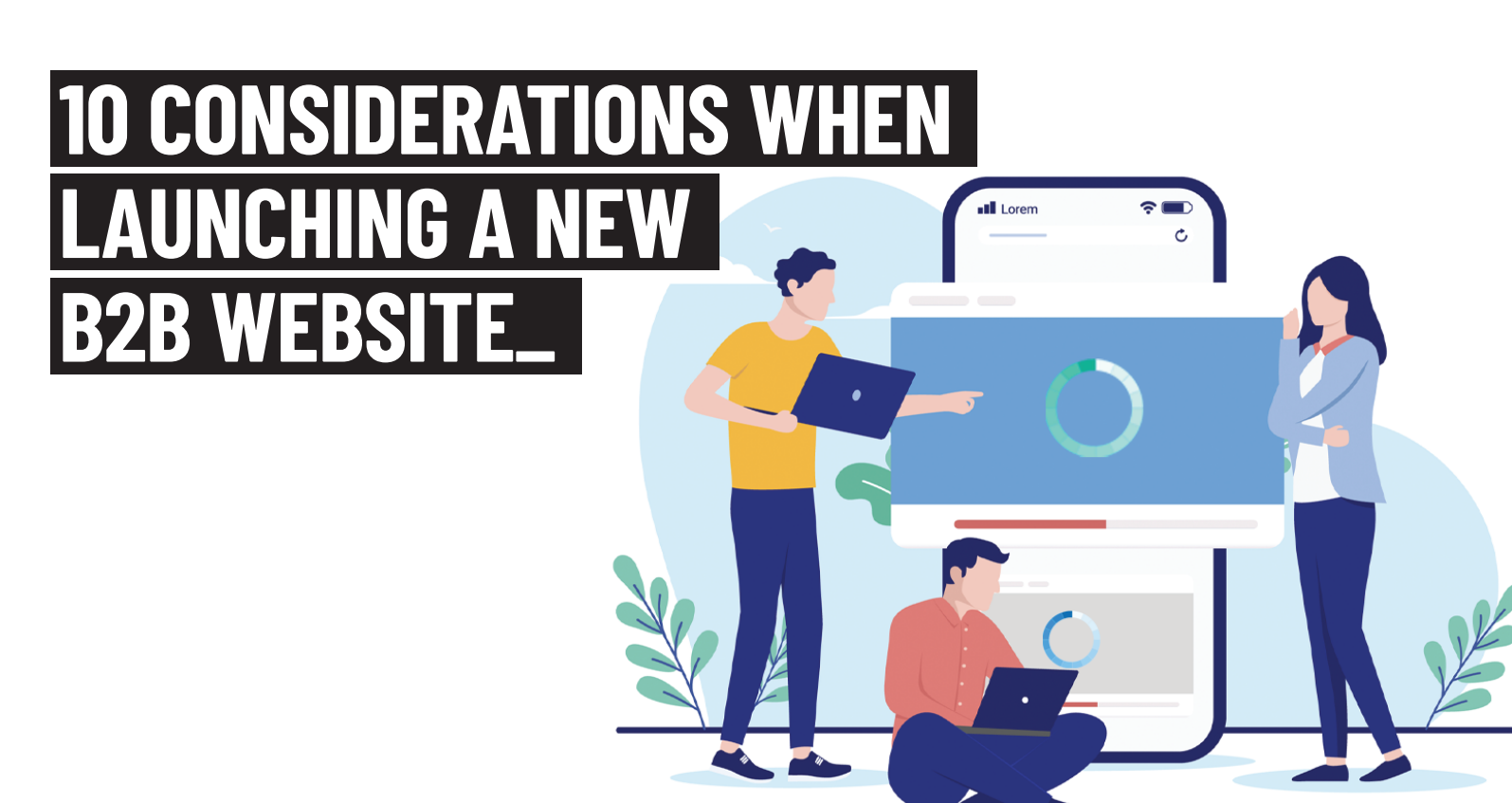 10 Considerations When Launching a New B2B Website
Having a functional and well-designed website is essential for any B2B company. It allows you to establish a strong online presence in order to attract and engage your target audience. Whether you are starting a website from scratch, or working on a website redesign, launching a website involves careful planning and consideration. Below we'll explore 10 factors that can help set your new B2B website up for success.
1. Create a Sitemap
During initial planning, it is important to establish the organization of the site. Knowing what elements will be included in the main navigation, and how pages will be organized under each menu item, creates a roadmap that you can follow when building out your content. A logical, intuitive website structure can increase both user experience and website crawlability.
2. Choose a Domain Name
Whether you are buying a new domain name, or evaluating your current one, you should always consider it from a user's standpoint. Does it clearly communicate your company's name? Does it seem trustworthy enough for someone to click on it? Is it memorable?
The ideal domain name is short, easy to remember, and an accurate representation of your company. If possible, it is best to use the .com extension. Studies show that .com websites are considered more trustworthy and memorable.
3. Choose the Right Host, CMS, and Theme
Before you can build your website, you need to lay down the necessary foundation. These steps involve a series of technical decisions like choosing the ideal host, content management system (CMS), and theme. If you have an existing website and are simply doing a redesign, you can likely skip to the next section.
If building a website from scratch, you will need to select the best website host for your purposes. The host is the online service that stores your website and all of its files and data. (Examples include GoDaddy, HostGator, and WP Engine.) There are dozens of options available – ranging from simple and inexpensive to complex and expensive. Identifying your needs and budget will help you narrow down your options.
Next, you will need to select your ideal content management system (CMS). Today, most B2B websites are built on WordPress, as it allows for high degrees of customization, an easy-to-use interface, as well as search engine optimization tools.
If you choose to use WordPress, the next necessary decision is choosing a theme. A theme is a collection of files that work together to create the layout of your site. It provides the basic structure of a website that you can then customize to align with your brand identity and website functionality requirements.
4. Build the Site on a Hidden Domain or Staging Site
Since you want to avoid users seeing your website under construction, any large edits or additions should be done on a hidden or staging site. If you are building a website from scratch, you can simply make the new domain private or password protected until the unveiling of the site.
If you are redesigning an existing website, this is best done on a staging site. A staging website is an exact replica of your live website that administrators can privately access and modify. It is a safe and isolated environment where you can add pages, make updates, and experiment with new features without affecting the live website. Once you are happy with the redesign, it is simple to push the staging site to the live site (and it's quick as well, with little to no downtime).
5. Branding & Design
Branding and design play a pivotal role in the web development process. During this phase, your company's colors, fonts, and logo should work together to develop the overall look and feel of a website. Careful consideration should be given to how the design elements contribute to the overall user experience. A visually appealing, easy-to-navigate website helps solidify your brand identity and cultivate an overall positive perception in users' minds.
6. URL Structure
When redesigning a website, it is ideal to keep the URL structure similar to the original site, if possible. This practice ensures the links transition seamlessly from the old site to the new, without creating errors or losing the SEO work you have put into the pages.
This can be difficult or even impossible, however, as the names of categories or product groupings may change with the new website. To avoid users seeing 404 "page not found" errors, redirect old URLs to their matching page on the new site.
There are many tools that allow you to check for 404 errors – for example, Google Search Console or SEO tools like Ahrefs and SEMrush.
7. Set Up Contact Opportunities
Once your new website is live, you want the leads to come rolling in! Make it as easy as possible for potential customers to contact you. Your contact page might include a contact form, your company phone number, and/or an email address, depending on how you prefer to respond to inquiries. The more methods you provide, the more likely someone is to follow through in contacting your company. You may also want to include a contact form or contact information on product and service pages.
If you are using a contact form that visitors can fill out, ensure there is a system in place for an internal employee to receive and quickly respond to requests.
8. Connect Your Site to Analytics Platforms
Knowing how visitors are interacting with your website is an important part of evaluating its efficacy. Connecting the site to Google Analytics allows you to see site statistics, such as how many people visit each page, where they come from, what elements they interact with, etc. Setting the site up in Google Search Console also provides important organic search information, including how pages rank in Google and which keywords are bringing people to which pages.
You may also want to use an SEO tool to check overall site health, page rankings, and keyword opportunities.
9. Make Sure Your Website is Search Engine Optimized
While your site should be built for your audience, it should also be built for Google. For better or worse, Google is the one deciding whether or not your website will be shown to many prospective customers. While you would never want to sacrifice user experience for an overly-optimized, keyword-stuffed page, care should be taken to follow best SEO practices.
10. Ongoing Maintenance: Security & Regular Backups
Once your website is up and running, you'll want to ensure your lead-generating machine is protected from any unforeseen issues. Establish a strict security protocol to guarantee only approved people can access the site. This may include 2-factor authentication and/or installing a security plugin, like Wordfence, that helps protect against hacking attempts.
Websites can go down for any number of reasons; even a simple update can accidentally break a site. Taking regular backups is the best way to safeguard against content loss. If something happens to your current site, you can revert to a backup with a few clicks.
By keeping these 10 essential factors in mind, your new B2B website can successfully drive brand awareness and preference, cultivating positive lasting relationships with your target audience. If you are interested in how Triad might help you develop a website that is aligned with your marketing goals and your brand, please contact us.
Contact Us About Your B2B Website