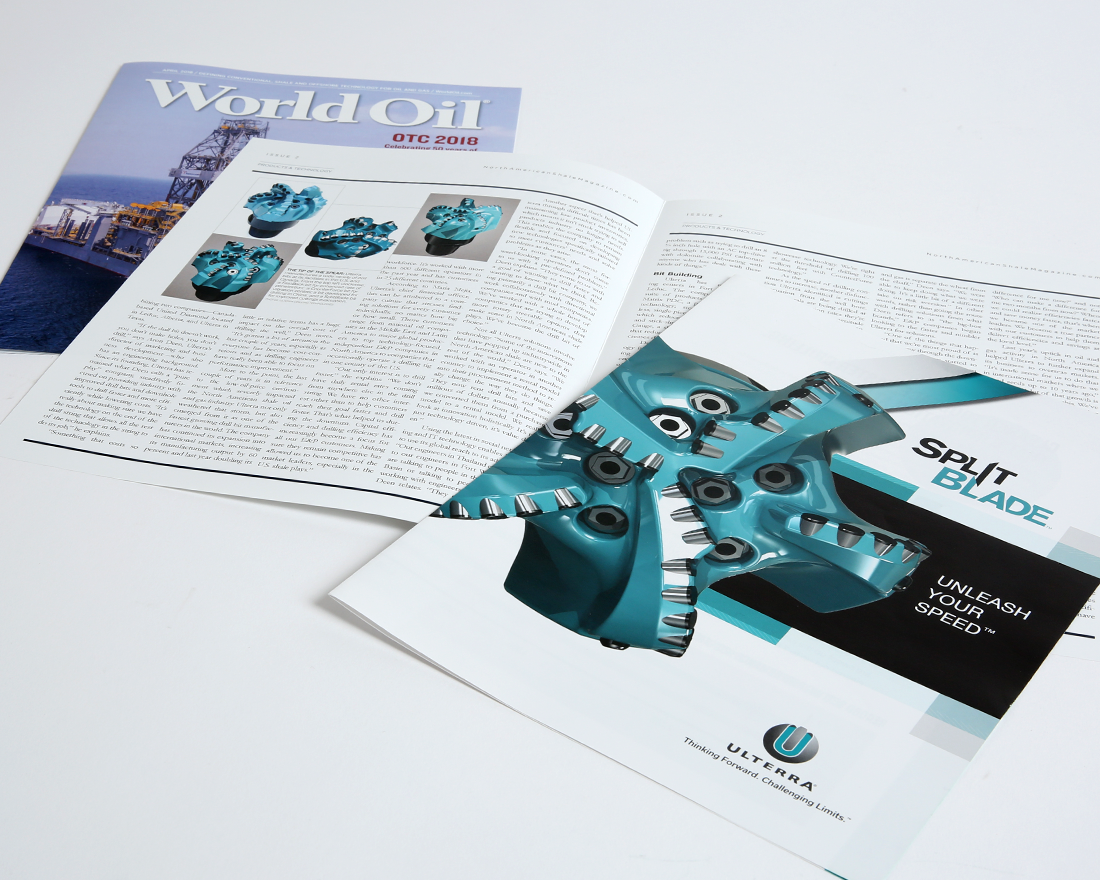 Successfully Introducing a New Product
Triad was tasked by Ulterra to introduce its revolutionary drill bit to the oil and gas market. To ensure the success of this effort, the agency developed a multi-faceted campaign to build fast and lasting awareness of the features and benefits of this new drill bit. The campaign was timed around a limited 4- to 6-week launch window in order to create a "threshold of awareness" and build maximum marketing momentum.
Challenge
Ulterra, a leading manufacturer of PDC drill bits, engineered a radically new concept in drill bit blade design – a breakthrough that cleared cuttings from the bit head even as it drilled horizontally. The result was faster drilling and longer bit life – leading to new performance records during initial trials. Triad's challenge was how to capture operating companies' attention and to encourage trials and rapid adoption.
Insights
The problems caused by debris and shavings around the drill bit had never been effectively addressed by conventional drill bit designs. The theory in the industry was that the presence of cutting debris on the face of drill bits created heat and friction, presumed to shorten the life of drill bits. The bottom line was that this problem resulted in shorter, slower runs, and the need for multiple replacement drill bits during the drilling process.
Solution
Working with the marketing team at Ulterra, Triad created product name concepts, conducted trademark searches, and settled on the brand name. SplitBlade®, based on the design of the bit, itself. In parallel activities, Triad developed key product messaging and graphics, while formulating a launch plan that included digital and print advertising, social media, literature development, video production, direct mail, and public relations. Advertising was placed in key trade publications, including inserting a 4-page brochure in two of the industries' leading magazines. The concerted PR effort was successful in delivering positive exposure for SplitBlade, including the publication of feature articles covering the SplitBlade in multiple trade publications.
Results
Triad's campaign generated broad market awareness for the SplitBlade, creating significant interest for this revolutionary bit in a short period of time. Ulterra translated this interest into sales of $16+ million within the first six months following its launch.