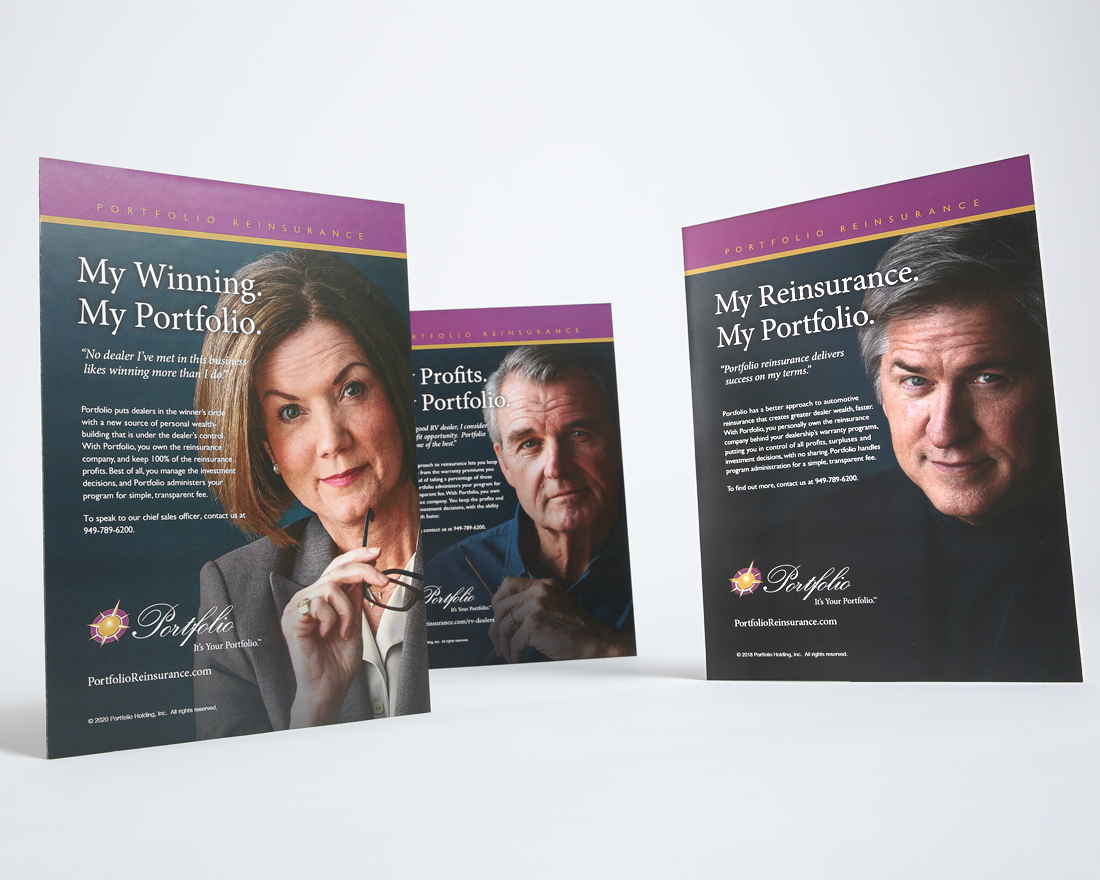 Breaking Through to a Crowded, Over-Communicated Market
How do you break through a wall of competitive clutter to deliver a unique and compelling message? The process begins with understanding the needs of the client's buyer. From there messaging is created that both gets noticed and connects with that buyer. In addition, that messaging has to be contained in a design, whether print or digital, that immediately captures the market's attention. Finally, completing this process, this initiative must employ the right marketing channels in order to reach prospects in the most effective and efficient manner.
Challenge
Triad's client, Portfolio, operates in a very crowded market of companies offering extended warranties for  automobiles, motorcycles, RVs, boats, etc. In addition, the target audience, dealers (primarily automobile dealers), are one of the most "marketed to" groups in the B2B space.
Insights
There is one very significant difference between Portfolio and its competition. Other companies, including automobile OEMs, market standard extended warranty programs on which the dealer is paid a commission.
Portfolio's approach is radically different. Portfolio actually sets up a true reinsurance company for the dealer, through which all warranties are sold. In addition, Portfolio provides all of the administrative support required for operating a warranty program. Many of Portfolio's customers' programs are so successful that dealers have been able to borrow from their own warranty companies to purchase other dealerships.
Solution
Triad created a strong multi-channel marketing effort, including print and digital advertising, public relations, social media, and database marketing, to help this B2B financial services company break through the crowded automotive dealer space.
The key to making this campaign so successful was Triad's focus on Portfolio's key point of difference…the dealer actually owning his or her warranty company. In the context of promoting this ownership, all marketing efforts focused on the many benefits associated with owning one's own warranty company. To further drive this point home, all marketing materials focused on the phrase, "My Portfolio," because the program, indeed, created a highly profitable "portfolio" for the dealer.
Results
The difference between the creation of a dealer-owned warranty company and the competition's commissions-based program became readily apparent to Portfolio's dealer audience based on this marketing initiative. Awareness of the better option offered by Portfolio was grown, and a significantly higher level of leads and sales were realized.